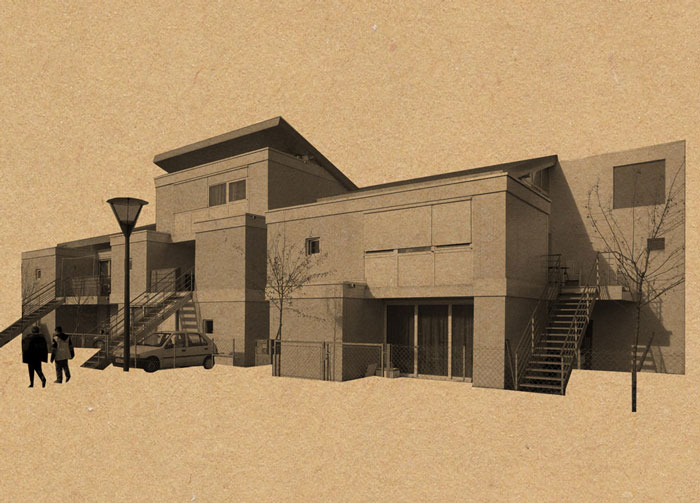 Cité manifeste de Mulhouse
Cité manifeste de Mulhouse
68100 Mulhouse, Haut-Rhin, France
2005
The design of 61 experimental public housing units commissioned by the Somco for the Cité Manifeste in Mulhouse have been given to 5 architecture offices: Jean Nouvel (AJN, Paris), Duncan Lewis Scape Architecture & Block (Angers, Nantes), Anne Lacaton & Jean-Philippe Vassal (Paris), Matthieu Poitevin et Pascal Reynaud (Art?M Architecture, Marseille), Shigeru Ban (Tokyo) et Jean de Gastines (Paris). The project is located in the vicinity of the first "Cité Ouvrière" (housing rented to working-class families) in France. This Cité Ouvrière was created in 1853 by the "Société mulhousienne des cités ouvrières" which worked as a general contractor for the project.
The challenge consists in combining architectural quality and public housing while following the same budget constraints applied to regular public housing projects. Our project consists of 14 units, which are under construction. The units are characterized by the variety and the richness of the exterior building envelope and the interior spaces.
They are designed in a stacking manner, like boxes with dimensions and colors assigned in a precise manner and for a specific purpose: blue for the bathrooms, pink for the kitchens and yellow for the storing areas. The living space and the bedrooms are all developed between these boxes or « load- bearing units » with the use of large picture windows. The 14 units (4 T2, 2 T3, 8 T4) are distributed in a symetrical manner as 6 independent entities on both sides of a shear wall dividing the site on its entire length. It is a re-intepretation of the local traditional plan known as « carré mulhousien ».
The ensemble provides the right balance between an urban scale (the mur continu) and the scale of single-family house with private garden and terrace.