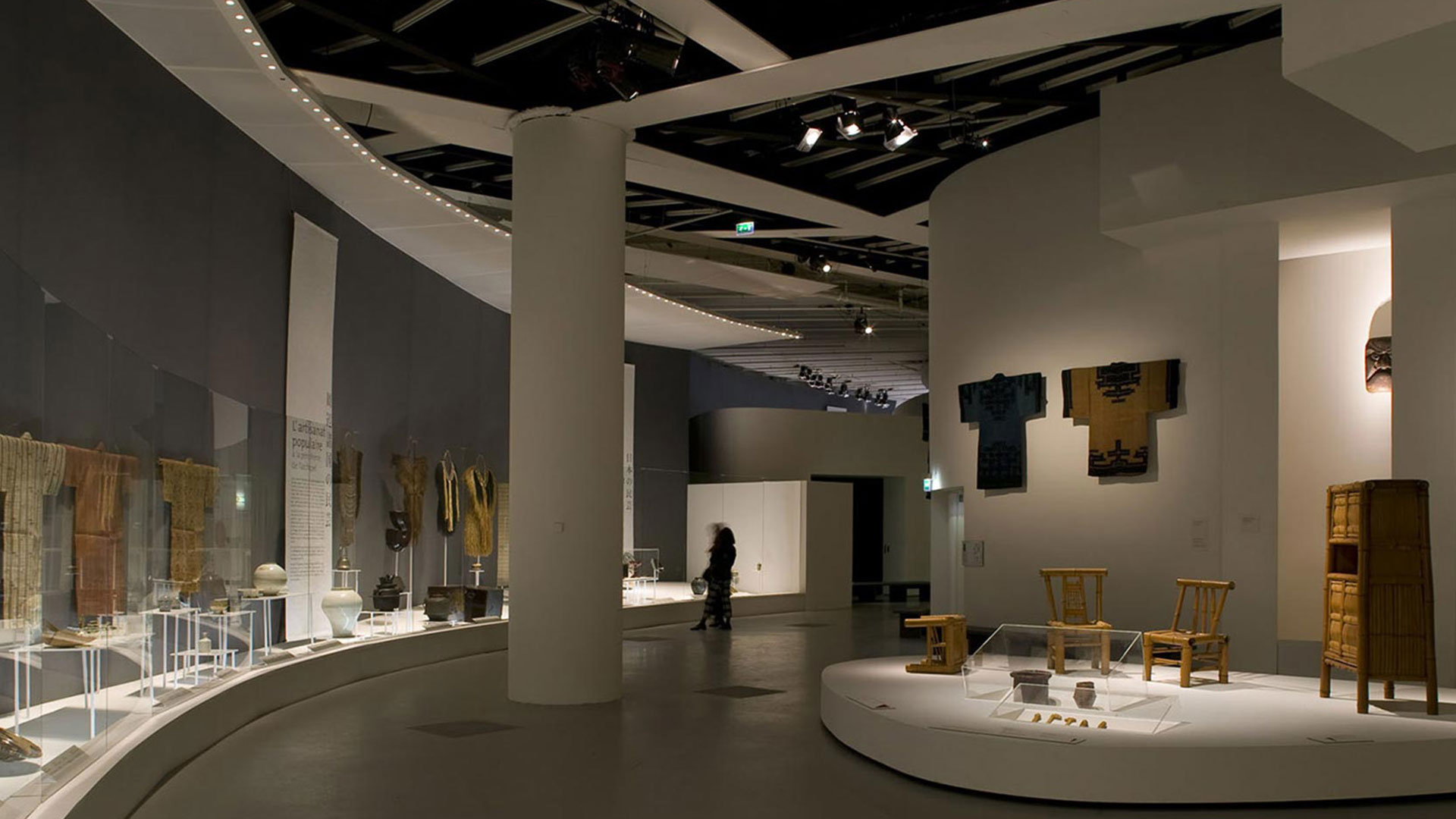 Exposition L'esprit Mingei
au Japon
MUSÉE DU QUAI BRANLY,
75007 PARIS, FRANCE
2008-2009
Although very different, each of the two exhibitions is conceptually characterized by the search for simplicity, reflecting the extraordinary environment of the Arctic and its vastness for UPSIDE DOWN, with the fundamental humility and modesty "nourishing beauty as human virtue" for Soetsu Yanagi, promoter of the MINGEI movement. For UPSIDE DOWN, we sought to recreate the sensory perceptions of this landscape in order to provoke responsiveness in the visitor to both utilitarian and intimate objects. For MINGEI, this search for simplicity has led to the creation of a single presentation support allowing the visitor to have a clear and immediate perception of both the isolated object and its place within the whole.
The concept focused primarily on how to inscribe the two projects in the existing space with the aim of blending naturally into the forms and volumes in the Garden gallery.
Secondly, it involved choosing an ideal location for each of the two exhibits within the overall space, so as to be consistent with the principle mentioned above and with the desires of the two curators in the "detailed program of exhibitions."
Thus, the exhibition space UPSIDE DOWN – accessible on the left after the ramp down – flares out from the lobby to the north façade. Its western boundary is defined by a wall at the location of the curtain "Issey Miyake", and its eastern limit defined by the neighboring exhibit, marked by a curved partition located under the elevated ramp. The remaining area of the gallery is devoted to the MINGEI exhibition space that stretches along the south-east facade.
Duration of the exhibit: September 2008 – January 2009.