La Seine Musicale
Shigeru Ban associate

2017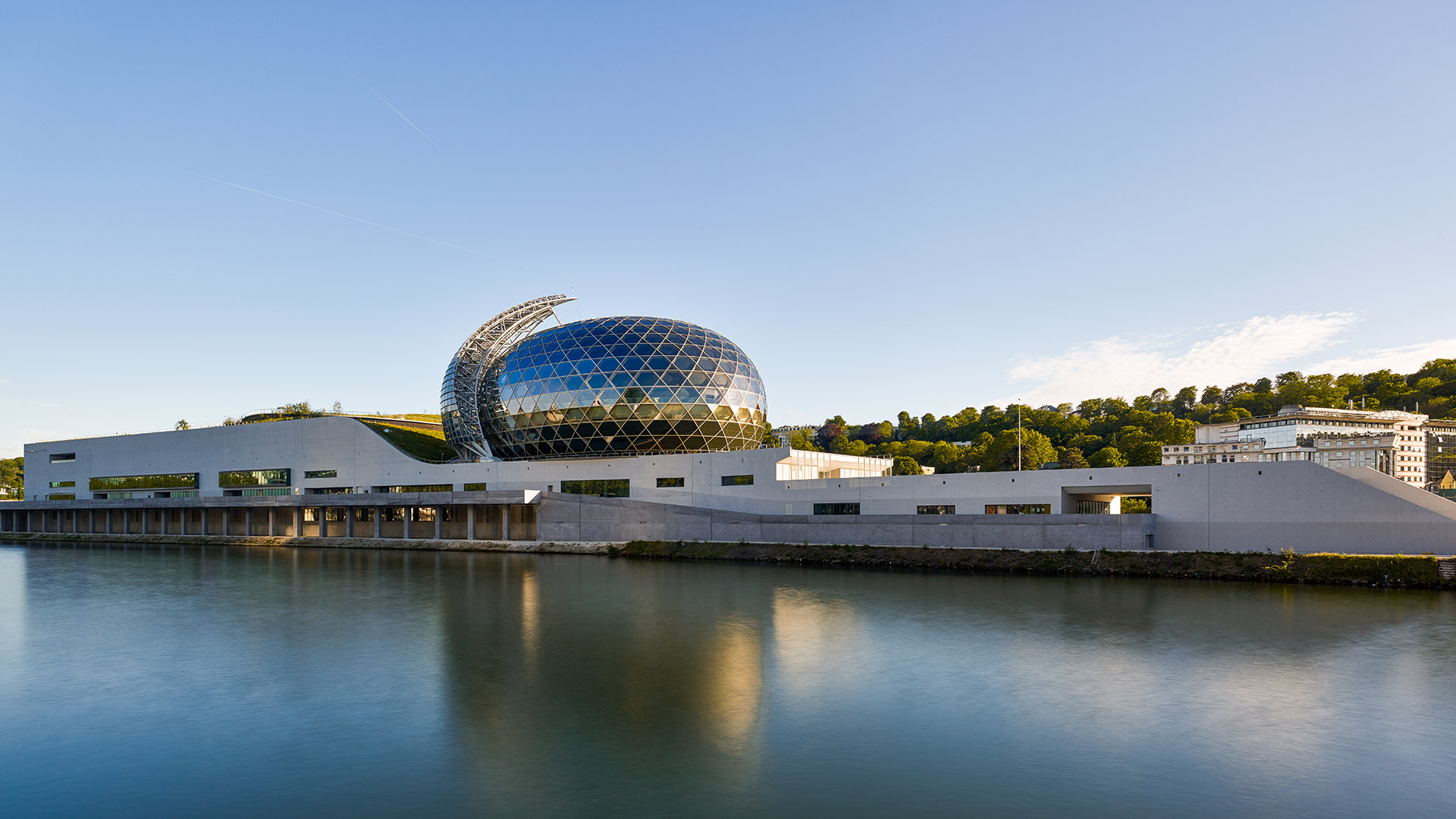 Cité musicale de l'ile Seguin
ILE SEGUIN, 92100
BOULOGNE-BILLANCOURT, FRANCE
2017
At the "prow" of the island of Seguin, the Cité Musicale solves the paradox of remaining in perfect continuity with the urban planning project of Jean Nouvel, while at the same time constituting a signal, an emblem of the culture of Hauts-de-Seine. On the downstream end, the foundation is inclined, and allows a nest of woven wood with rounded shapes to emerge. This detaches itself from the general silhouette of the island and affirms its presence. It announces the specificity of a prestigious public and cultural program: at the interior one notices the iridescent hull of the auditorium and the activity of its foyers. To the sides, a silver sail protects it from direct sunlight. This photovoltaic solar sail is always in movement, orienting itself following the course of the sun and permitting optimal energy production.
The program organizes itself along the Grand Foyer, the spine of the project. A public reception area, this Grand Foyer is a generous and functional space that serves the public programs: the Great Hall, the Auditorium, Business Space, and the Rehearsal/Recording Poles. It is thought of as an extension of the public space in the interior of the Cité Musicale. Here we find stores, cafes, and restaurants open to all. It is flexible, and of generous dimensions in order to accommodate a great variety of events.
The Great Hall of the Cité Musicale is made to respond to the most ambitious programming. It inscribes itself in the tradition of popular Parisian great halls, all while being a veritable scenographic tool allowing for a wide variety of spectacles: concerts, musicals, live theater, conventions, etc. The hall is simple, functional, comfortable, and flexible. Its occupancy capacity is 4000 people if seated, with room for 6000 in sitting/standing position. Through scenic arrangements, which allow for extreme adaptability, the room can be adapted to all kinds of events and occupancy.
The auditorium of 1150 places, conceived specifically for accommodating a symphonic orchestra or contemporary music, is a space with excellent acoustics, designed with the precision of an instrument. It is a concert hall of the "vineyard" type — a typology retained for acoustic criteria as well as scenographic qualities. The audience is spread across multiple terraces all around the stage, creating a large geographic and sensory proximity between the musicians and the audience. Acoustically, the surfaces that compose the different terraces allow for early reflections of the orchestra, intensifying the feeling of intimacy with the musicians.
La Cité Musicale is a space of emotion, of practicality, and of sound, for discovery of all kinds of music. It is also an architecture inscribed into an urban area that is open to all. It is capable of receiving varied events: artistic, political, festive, commercial, etc. It will be a new symbol of the Vallée de la Culture and of the Grand Paris, an architectural gesture of international standards.