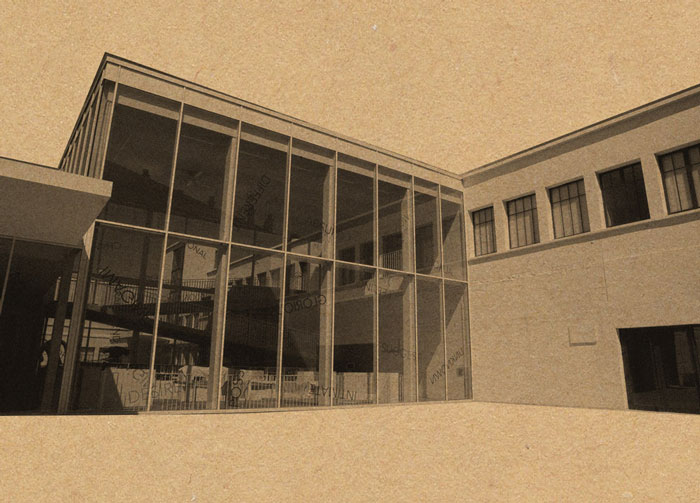 Consortium de Dijon
Consortium de Dijon
21000 Dijon, Côte d'or, France
2011
The Consortium is a contemporary gallery of art, established in Dijon.
The "consortium factory" project consists of the rehabilitation and extension of an existing factory in order to increase the space devoted to exhibitions. The terrain, of trapezoidal form, is an enclave at the heart of a residential quarter. The Longvic street, between a residential building and the encircling wall of a private house, enables unique access to the terrain. The primary urban objective of the project is to coil the extension around the factory and an interior court in order to enhance the existing structure with the contrast thus created. The existing factory is formed of two main structures, which form a right angle along the Eastern boundary and somewhat recessed into the Southern edge.
The project responds to the existing "square" by another square composed of two buildings, one along the Northern boundary and the other perpendicular to it.
This arrangement provides two elements; the opening of an access corridor to the gallery, set back from the Longvic street, and also an "atrium" courtyard in the heart of the building.
The first courtyard is a counterpart to the access limited by the street, and opens up a living space, a little urban area through which the public passes through, no matter their activity.
The second courtyard, the atrium, is an exhibition space entirely apart, and is situated at the heart of the project. From the street, one first discovers the highest part of the gallery: the "White box", a massive volume, white and windowless, extending to a height of 12 meters.
In contrast with this volume, the second thing one notices in walking into the courtyard is the entirely glazed volume of the hall. The transparence of this space draws the visitor toward the exhibition spaces and allows them to look upon the atrium.
This volume, the "entrance lobby", consists of an industrial elevator platform, with a space of 75 square meters that is regularly used for the scenic spaces. This platform serves the different levels of both the existing structure and the extension, and allows for the movement of artwork in the exhibition spaces as well as people.
Here, it is not the visitor who ascends to the exhibition rooms, but the entrance foyer that "deposits" the visitors in the space of their choice.
It is an "architectural event" that contributes to the scenography of the venue. From the courtyard, across the windowed volume, one can see a platform that changes according to the comings and goings of visitors.