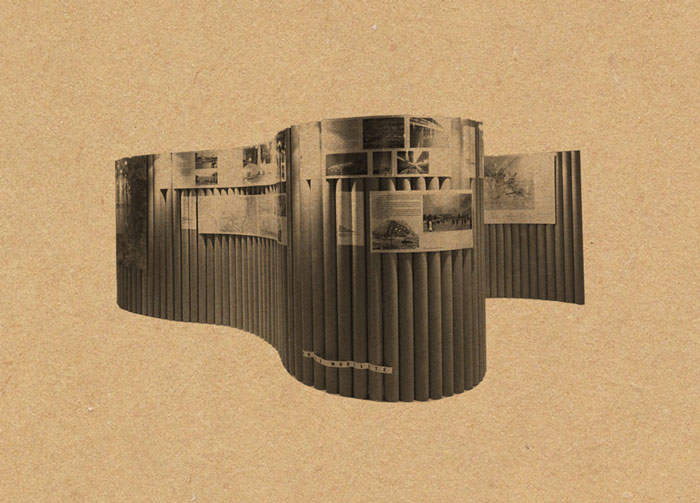 Exposition Territoires partagés
Exposition L'archipel metropolitain
Territoires partages
Pavillon de l'Arsenal 75004 Paris, France
2002
Completed in 2002, the design of the exhibition "L'Archipel Metropolitan – Shared Territories" is divided into three distinct families of lightweight structures:
– The screens wrap the stairwells and expand randomly throughout the exhibition area. They support the display of text, maps and illustrations. They are made by assembling cardboard tubes 2.10m high, round sections with an outside diameter of 11 cm and square sections (6.9cm x 6.9cm). – Three ducts of fabric positioned around the walkway rise up to the glass skylight to form lightwells. At the base, a frame sandwiched between two layers of fabric accommodates a display of photographs.
– Three structures produced by the mesh of aluminium bars wrapped in translucent PVC film, take on different geometries in which videos are projected: in the western corner, the structure is vertical and takes the form of a spiral – in the center it rests on the bridge and forms a tunnel at the eastern angle, it is hung from the wall to produce an indeterminate form.